A clean and tidy space is one which always feels welcoming and allows your space to feel fresh and hygienic. Floors are an important part of a clean space, and if you have carpeting, you need to pay attention to the special attention it requires to maintain carpet floors. Carpets are a great decorative choice for your space, personal or professional. It creates a lovely appearance and adds style and softness to any space it is added to. Oftentimes, people undertake cleaning carpets on their own without the knowledge of the special skills required to clean carpets without damaging them or ruining their appearance.
It is very important to note that carpet cleaning requires extra attention and care. If you don't want your carpets to ruin during the cleaning process or you don't want to change your carpets due to stubborn stains which seem impossible to clean, you require professional carpet cleaning. There are several benefits of hiring professional services for getting the carpets of your homes or offices cleaned by professional services. Hiring skilled professionals to fulfill your carpet cleaning needs will be one of the very good decisions you make for your homes and offices. Here are some of the many outstanding benefits you can avail of if you hire professional carpet cleaning services:
1. Sanitized carpets and removal of germs and bacteria
Hiring professional carpet cleaners with professional tools will ensure that your carpets are always free from all kinds of germs and bacteria. Since rugs are less even and smoother than floors, they can accumulate all kinds of germs within narrow and uneven spaces. It is also harder to clean carpets due to the lack of smoothness. This is where a good professional carpet cleaning service comes in handy, as they have the right equipment and they know the correct methods and techniques to help clean your carpets and remove all kinds of accumulated germs and bacteria. They also disinfect carpets to ensure that no health issues are caused due to unclean carpets.
2. Saving money and effort
If you have occupied a rented space with carpeting, keeping your carpet floors clean will ensure that you never lose your security deposit money. Further, cleaning carpets, whether in a rental space or in your own home, can be quite expensive and tiresome. If you want to do your own carpet cleaning, you will need to spend a lot of time and effort for anyone to clean them properly. Further, you will also need to invest in expensive tools as carpet cleaning requires specialized equipment. Hiring a professional carpet cleaning company in Surrey can ensure that you save time for more important tasks at hand. They will also bring their own equipment, and their expertise will help you in getting your carpets cleaned with less money than you would have spent if you had to buy the tools for carpet cleaning yourself.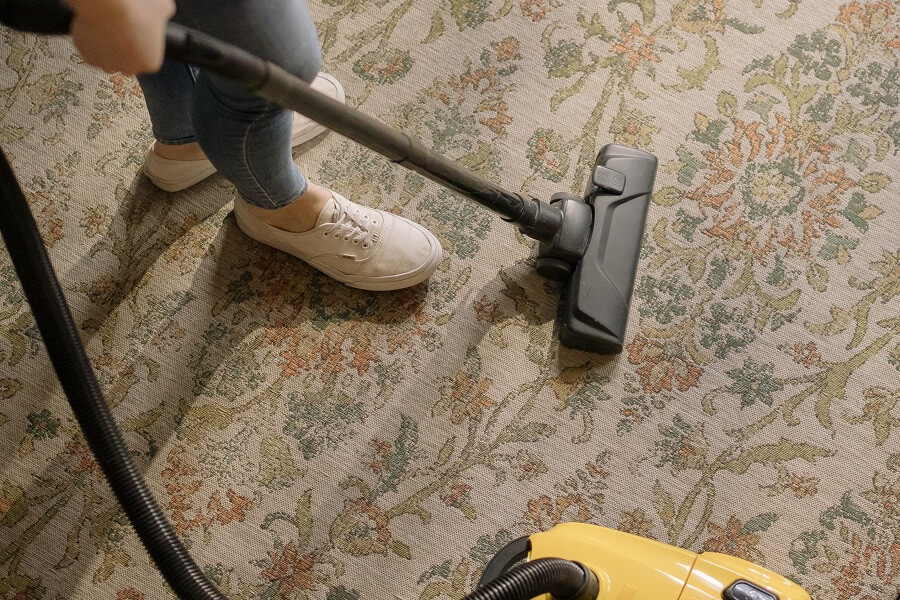 3. Extending the life of your carpets
Carpets get dirty easily. They accumulate dust, stains, and dirt, and since they are not as simple to clean, they can often stay dirty for a longer period of time. If your carpets stay dirty for long, they can appear shoddy, old, and worn out. Such carpets also pull down the appearance of the entire space and do not create a welcoming display. Since carpets get dirty easily, if you don't hire professional cleaning services to clean your carpets, you will need to change your carpets more frequently to ensure that your space feels clean and tidy. Changing carpets frequently can cost a hefty amount. It is also an inconvenient renovation job.
Therefore, in order to save some of your money and have a hassle-free experience of owning carpet floors, invest in hiring professional carpet cleaners so that your carpets don't lose their gleam and appear lifeless.
4. Removal of odors and stubborn stains
Some stains can be rather difficult to remove when you try to clean your carpets yourselves. Mere vacuuming your carpets also isn't an efficient method for removing accumulated dirt and other stubborn stains in your carpets. Sometimes, your personal attempts to remove stains can also lead to discoloration of carpets. What earlier used to be an irksome stain ends up becoming a discoloration which gives your space an uneven look. Over time, these dirt and stains can also result in odors if the substances get absorbed into the underlay. Hiring professional carpet cleaning services can help in removing stubborn stains and odors with the right techniques, such as steam-cleaning, to prevent permanent damage to your carpets. With their expertise, they can use the right techniques to remove different types of stains and ensure that your carpets don't appear odd or patchy.
5. Improving the overall appearance of your space
If you hire professional cleaning services to take care of your carpet cleaning needs, it will also improve the overall appearance and vibe of your room. Shoddy carpets can bring down the liveliness of any space, no matter how decorative and clean the space might be. If you want the space to feel lively, clean, and hygienic, you need to ensure that your carpets are also cleaned properly and regularly. Hiring professional cleaning services can help in improving the appearance of your space by cleaning your no carpets efficiently.
Conclusion
If you want your space to appear clean and aesthetically pleasing, then you need to hire professional carpet cleaning services. With the right techniques and equipment, professional cleaners will ensure that your carpets are stain and odor free. This will not only increase and improve the life of your carpets; it will also save you time and money.