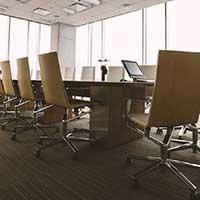 KEEPING YOUR OFFICE SPOTLESS AND SPARKLING
Your office is the face of your business and it plays a vital role in the productivity of your workers. Recognized as a premier cleaning service in Surrey, BC (Canada), we are committed to offering top-of-the-line cleaning services to offices, retail stores, fitness centers, shopping centers, restaurants and other commercial centers backed by local experts.
We understand that every client is different, which is why we follow a customized plan to meet the unique needs and budget of every client. With us, you're assured of prompt and reliable service and the best results in no time. Our priority is to make you 100% satisfied with our superior office cleaning service. Our constant innovation and commitment to excellence are what make us a premier service in Surrey, BC (Canada)?
Our office cleaning service misses no corner. Our team of commercial cleaners is thorough regarding everything from replacing garbage bags to vacuum carpeting. They also clean furniture, walls, glass windows and air vents until they are spotless and sparkling. Your space will be cleaner and your furniture will last longer when you count on NEET Janitorial for commercial cleaning service.
Why Neet Janitorial?
Bonded and Insured: We are a leading cleaning company you can count on. Our business is bonded and insured for your protection.
Environment-Friendly Solutions: We understand that the well-being of your employees is your priority. Our office cleaners always use eco-friendly products. These products are free from abrasive chemicals and don't impact their health providing a safe working environment.
Experienced and Reliable: We are a well experienced and reliable, forward-thinking commercial cleaning company serving the entire Surrey, BC (Canada) and other nearby areas.
100% Satisfaction: We, at Neet Janitorial, aim to make you 100% satisfied with the cleanliness of your office.
In addition to standard office cleaning services, we also offer a plethora of speciality cleaning services. If you're looking for professional commercial cleaning services in Surrey, BC (Canada), call us today for a free estimate!