Cleaning places of business poses different challenges and problems than cleaning homes. It is important to ensure that the correct kind of methods are used to clean a place of business as it requires unique solutions and processes. The kind of equipment and cleaning products used in cleaning a place of business are different from those used while cleaning a home or a smaller space. Suppose you run a commercial cleaning service or are undertaking a cleaning project for a place business. In that case, you will face a number of challenges that you must handle correctly and efficiently. This list will help you understand your challenges while cleaning an office space. It will provide you with possible solutions that will make your cleaning journey hassle-free and smooth.
1. Fixing a time for the cleaning appointment
A workplace is usually a highly busy and occupied space where establishing a fixed time for a cleaning appointment might be more challenging than it may seem at first. The workplace may be occupied for all the working hours of the day. In such a scenario, it is important to fix a time late evening, early morning, or night so that the office can be cleaned while the office space is not crowded. If the workplace is a 24-hour office where people work in shifts, time slots where the office space is the least occupied and cleaning in smaller time slots spread throughout the day might be suitable. Please ensure that you are also factoring in the necessary overpay for accommodating the client's requirements. We offer affordable commercial cleaning services in Surrey, and we offer flexible cleaning schedules so that you can select a time of the day that suits you the best.
2. Using the right products and correct equipment
Different places in the workplace will require different cleaning products. One of the main challenges for a commercial cleaning service is to mitigate cost while assessing the requirement of cleaning products while keeping n mind the correct product dilutions. Once you find out how much product you will need while cleaning a workplace, you need to figure out the types of cleaning products you will require for cleaning different areas of the workplace. A bathroom cleaning job will require specialized cleaning products, while kitchens, floors, or cupboards may be cleaned with a multi-purpose cleaner.
Using the correct cleaning equipment is also a challenge, and you should invest time into assessing the needs of the client and ensuring that you have all the necessary equipment you may need for cleaning any kind of workplace.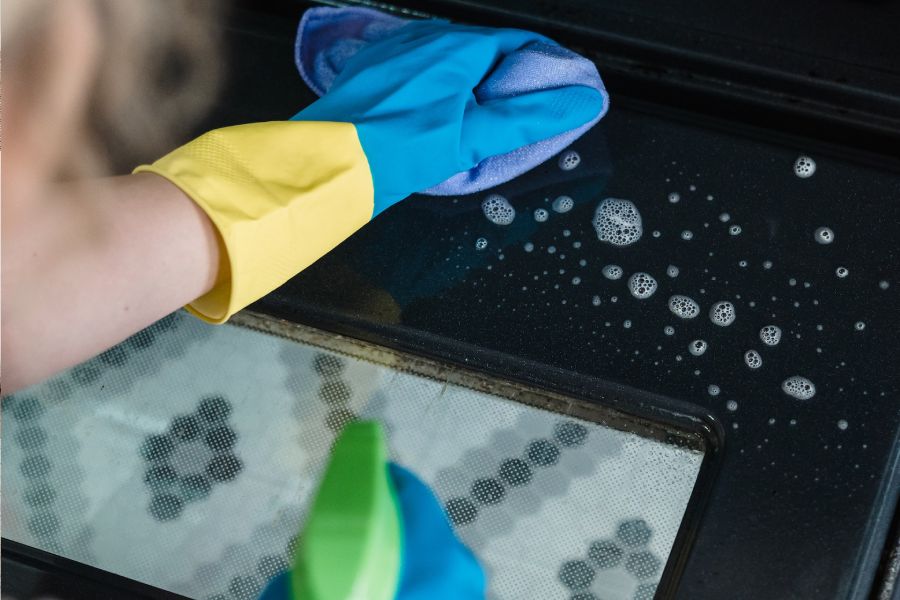 3. Cross-Contamination
Cross-contamination can occur when separate products are not assigned for cleaning specific areas of any workspace. It has become an important concern, especially in businesses that provide medical or health-related services. If the cleaning products and equipment are not separated and assigned to specific areas, the process of cleaning might actually result in cross-contamination and the spreading of germs and bacteria from one place to another. Therefore, it is crucial to adopt a color-coding system or any other method to make sure that only the assigned cleaning products and equipment are used to clean specific areas of the workplace.
4. Missed Areas or Incomplete Work
There are often scenarios when the cleaning crew may miss some areas while cleaning, resulting in incomplete work. While it may really just be a mistake, it is never good for business if a job is not done up to the mark. To avoid situations where your cleaning may miss some areas leaving the workplace without completing the work, you need to make a plan before starting the cleaning job. If there is already a plan made where the spaces to clean are divided into different tasks in a list, it is easier to enforce quality control and prevent unintentional mistakes. After the cleaning crew completes the job, make a final assessment, and match the areas with the tasks mentioned in the list.
5. Communication Problems
Whether it exists between you and your client or you and your employees, a lack of communication will make managing your cleaning service hard and challenging. If well-defined channels of communication are open between you and your clients, there are fewer chances of any miscommunications with regard to clients' expectations and your deliverables. It is also essential to have an open channel of communication not just before or during a cleaning project but even after the cleaning job is completed. Clients will use it to provide constructive feedback, while you can use it to provide clear instructions to the cleaning crew.
6. Thinking about the environment
Green cleaning is a critical cleaning service industry trend, and you should be aware and prepared for any such demands that a client may have before giving you a chance to clean their workplace. Oftentimes, workplaces require the use of sustainable techniques and green cleaning products to ensure that their business practices are not detrimental to the environment. Training your staff in sustainable cleaning methods which use fewer chemicals and water while investing in eco-friendly cleaning products will make your cleaning service a part of this significant industry trend.
Cleaning a workplace can pose numerous challenges to your commercial cleaning business. It is vital to take note of these challenges and prepare to tackle them if or when they arise. The above-mentioned list provides you with a set of typical challenges faced by cleaning services and the possible solutions for them. But you don't have to worry about cleaning, contact our experts today , and get easy solutions to all your cleaning needs.